ITS OFFICIAL! VW is the new sponsor for DC United!
And as a "Hey, thanks for being AWESOME fans!" they are paying for parking in Lot 8 at RFK for the DC United game this Thursday against the Chicago Fire. YES, FREE PARKING! I'm sure it's not a coincidence that the first game under VW sponsorship is on national TV on ESPN2, where they can display the hot new jerseys.
The deal is reported to be for about $14million over 5 years, and VW has the option of naming rights on DCU's new stadium (if it ever gets built).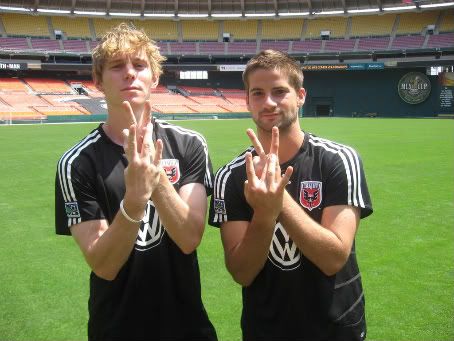 Fred and Gonzalo Peralta pimp the new DC United jerseys with sponsor VW. Click the photo to see the whole set of promo images on DC United's flickr gallery.
DCU and Volkswagen: It's what the people want (behindthebadge.com, DC United's offical Blog)
Steven Goff says "Beep Beep"
Dan Stienberg has several good posts on his DC Sports Bog, including One Last Bit of VW Propaganda, United Players Are Excited, Heidi and VW and the Jersey, VW Comes to RFK.